Trigram Mobile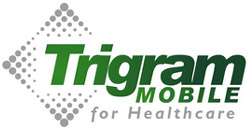 Clinicians are increasingly on the move. There's more ground to cover in multiple offices, nursing homes, skilled nursing facilities and homes to treat patients' healthcare needs. And less time to get reports and documents filed. With HIPAA security requirements and inconsistent Internet access, Clinicians need to document patient encounters at the point of care and make that information available to co-workers, and for future Clinician visits. Trigram Mobile keeps Clinicians on the move with accurate reporting.
Strong HIPAA security
Work Offline
Synchronize data with other users in your group*
Intuitive Design
Touch based User interface
Specialty Modules
Safely store patient data in an encrypted database
Work anywhere—no web access required
Lets you share patient data with others in your group
Easy to use out of the box with little or no training
Touch based UI for easy usage with your fingers
Can be customized to your practice
Modules available for Wound Care, Home Health, PT/OT, Nurses and caregivers
Our Home Health Physical Therapy Department has had remarkable results from Trigram's iPad app. Our staff can now perform documentation even when they don't have Internet access. Note writing is fast, and the end user's able to provide the office all they need to get their job done. It's reduced phone calls from the home health office asking for additional information. Complaints of therapists' poor handwriting are a thing of the past. The ability to customize the template environments quickly is another outstanding feature. We've had occasions when a therapist in the field requested a template change, and I was able to make the edit within minutes. That's impressive! We're able to quickly adapt without waiting days or weeks for support make changes. Trigram's support is exceptional and their responsiveness, professionalism, and knowledge regarding rehab documentation have exceeded my expectations. Now, I'm considering switching to Trigram Mobile/Web for our outpatient clinics as well.
Trigram Mobile is designed with our standards of practice included and assures our policies/procedures will be followed. This helps us with required CMS and State regulations for documentation. Trigram Mobile expedites return of documentation which helps us send claims quicker. We no longer have to wait for clinicians to deliver paper. We can clinically coordinate better since we have a quicker return on the most current note. Our productivity is much more crisp and clean since we can access notes from the Trigram Mobile web repository. We recommend Trigram Mobile for any practice looking to improve the workflow of mobile clinicians.